Mechanical Ventilation with Heat Recovery
Mechanical Ventilation with Heat Recovery (MVHR) meets the most demanding requirement for ventilation, referred to as System 4 in Part F of the Building Regulations and is used widely as the ventilation strategy in PassivHaus (Ultra low carbon airtight dwellings).
Superior indoor air quality is one of the critical components when designing your new home to ensure optimal comfort levels are maintained. Once commissioned correctly, will also protect the internal fabric of your home from damp, condensation and black mould.
MVHR also been proven to reduces airborne pollutants and dust in your home which help alleviate health conditions such as asthma and hay fever.
How It works:
The MVHR system is designed to operate 24 hours a day 7 days a week. It will provide fresh filtered air continuously to all habitable areas, whilst simultaneously extracting warm, stale polluted air from all wet rooms i.e Kitchens, Bathrooms, Wc, etc
The stale warm air passes through the heat exchanger before exiting the dwelling; the filtered incoming air is then heated by the energy saved within the heat exchanger before being distributed into your home- this is the heat recovery process.
The MVHR system is up to 93% efficient at recovering the heat within the heat exchanger and your energy costs will be reduced as a result.
An MVHR system with an integral humidity sensor has the ability to increase air flow when elevated moisture levels have been detected throughout the dwelling, this enables the system to be fully automatic eliminating the need for regular manual control.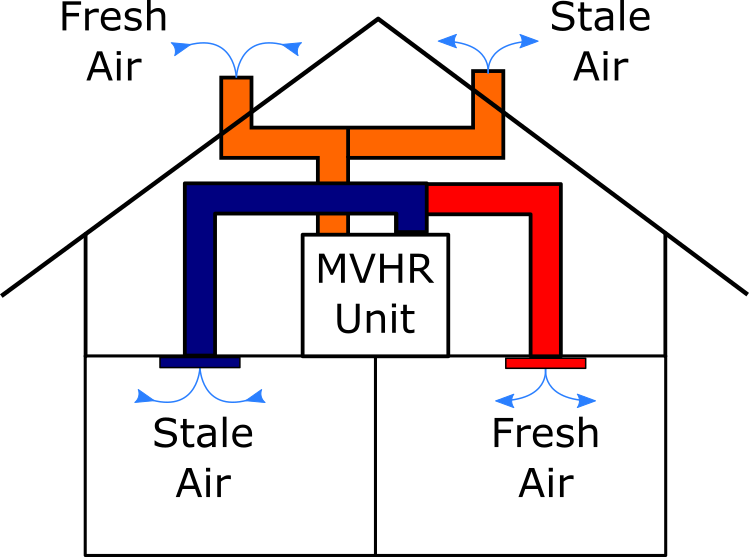 The MVHR system should also feature a summer bypass to allow cooler external air to be introduced into the property (when conditions allow) when the internal air temperature exceeds a set parameter.
Increased levels of filtration can be added to the system to minimise the effects of dust mites and pollutants to assist with more comfortable living for occupants living with allergies and respiratory issues.